We're Florida's very 1st LGBTQ+ Arts Organization.
Our voices and yours are still very much needed.
Thanks also to our friends, chosen families and again to special guests Congresswoman

Debbie Wasserman Schultz

,

Mayor

Dean Trantalis

and

Deborah Kerr

for making it an inspiring 35th Anniversary.
[Click the images of each speaker to see videos of their presentations and to see more of our 35th Anniversary Why We Sing Show.]
On July 1st, Florida state enacted the 'Parental Rights in Education' bill, led by Governor Ron DeSantis.  It's known as the 'Don't Say Gay Bill.'

We at FTLGMC strongly oppose this new law and the targeting of LGBTQ students, teachers, and families. Unfortunately, this is not the first time our community has been targeted.

We have stood up against this type of bullying and discrimination for 35 years. We still do so by building and bringing together communities, instead of dividing them, with Music.

[Click the images to see the presentations from our honored guests and see more of the Why We Sing 35th Anniversary Show.]



---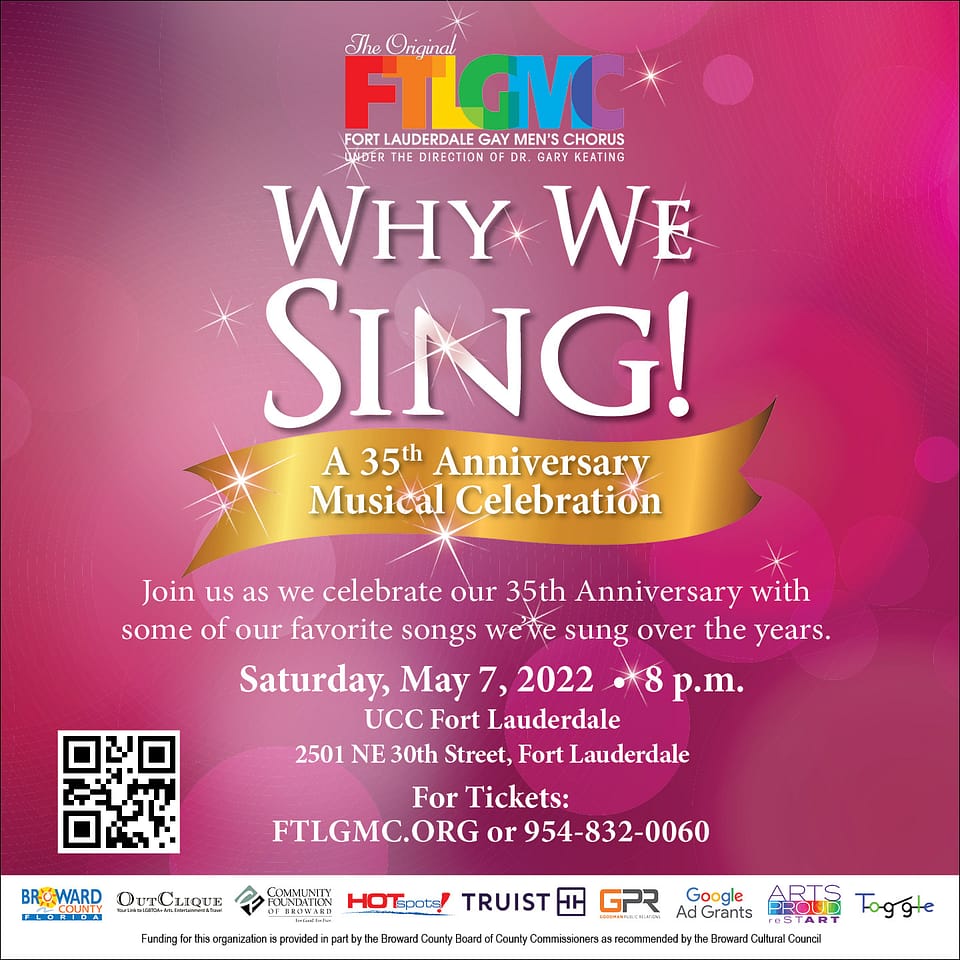 Celebrate our 35th Year of Serving & 'Singing Gay' in the Broward County, South Florida community
---
---
---
Divas Through the Ages – Gay Men's Chorus of Fort Lauderdale Concert presented in part by the Community Foundation of Broward
An evening of fun and moving performances to honor the divas that all #gaymen love! FTLGMC presented performances of diva hits over the last 100 years from greats like Judy Garland, Whitney Houston, Bette Midler, Tina Turner, Liza Minnelli, Diana Ross, Idina Menzel, Patti LaBelle, Gloria Gaynor and more. Sponsored included the Broward Community Foundation, OurFund.org and SFGN (The South Florida Gay News).
---
Sponsored in part by: