We're Florida's very 1st LGBTQ+ Arts Organization.
Our voices and yours are still very much needed.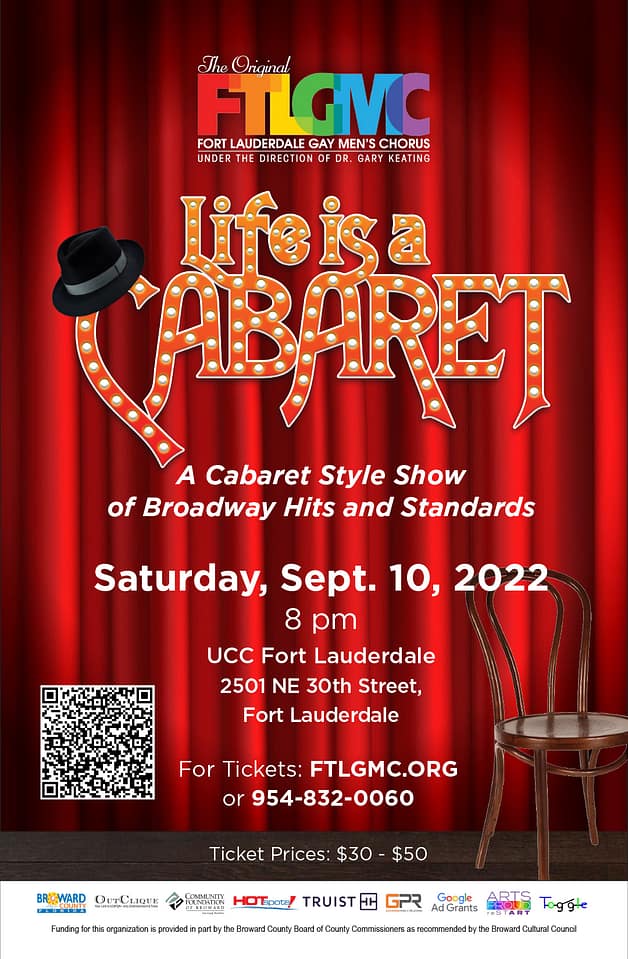 OUR NEXT CONCERT IS: Saturday, Sept 10, 2022 UCC Fort Lauderdale @ 8PM
Cabaret Tables (will sell out quickly) & General Admission Seating available.
This show will highlight the full chorus and also lots of chances to hear individual chorus members in solos, duets, trios, etc.
---
Jack Cole was a dedicated member and the chorus' Treasurer for over 25 years.
We all remember Jack as one of the most giving people we've ever known.
His support of our Mission, his great personality, and his generous nature are truly missed every single day.
Learn more about Jack in this feature article from OutClique magazine.
Help us continue to celebrate his legacy of singing and volunteer service to fulfill our mission.
Jack wanted a Memorial Fund to be established in his name, for the benefit of our chorus, the organization he loved and supported so completely. Help continue to celebrate Jack's legacy of singing and giving to support LGBT music in the critical state of Floridia.
---
Our 35th Anniversary Concert, WHY WE SING, was a huge success.
Thank you for being part of our extended family.
This is truly Why We Sing! 


Thanks also to our friends, chosen families and special guests Congresswoman

Debbie Wasserman Schultz

,

Mayor

Dean Trantalis

and

Deborah Kerr

for making it an inspiring celebration.
[Click the images of each speaker to see videos of their presentations and to see more of our Why We Sing 35th Anniversary Show.]
On July 1st, Florida state enacted the 'Parental Rights in Education' bill, led by Governor Ron DeSantis.  It's known as the 'Don't Say Gay Bill.'

We at FTLGMC strongly oppose this new law and the targeting of LGBTQ students, teachers, and families. Unfortunately, this is not the first time our community has been targeted.

We have stood up against this type of bullying and discrimination for 35 years. We still do so by building and bringing together communities, instead of dividing them, with Music.

[Click the images to see the presentations from our honored guests and see more of the Why We Sing 35th Anniversary Show.]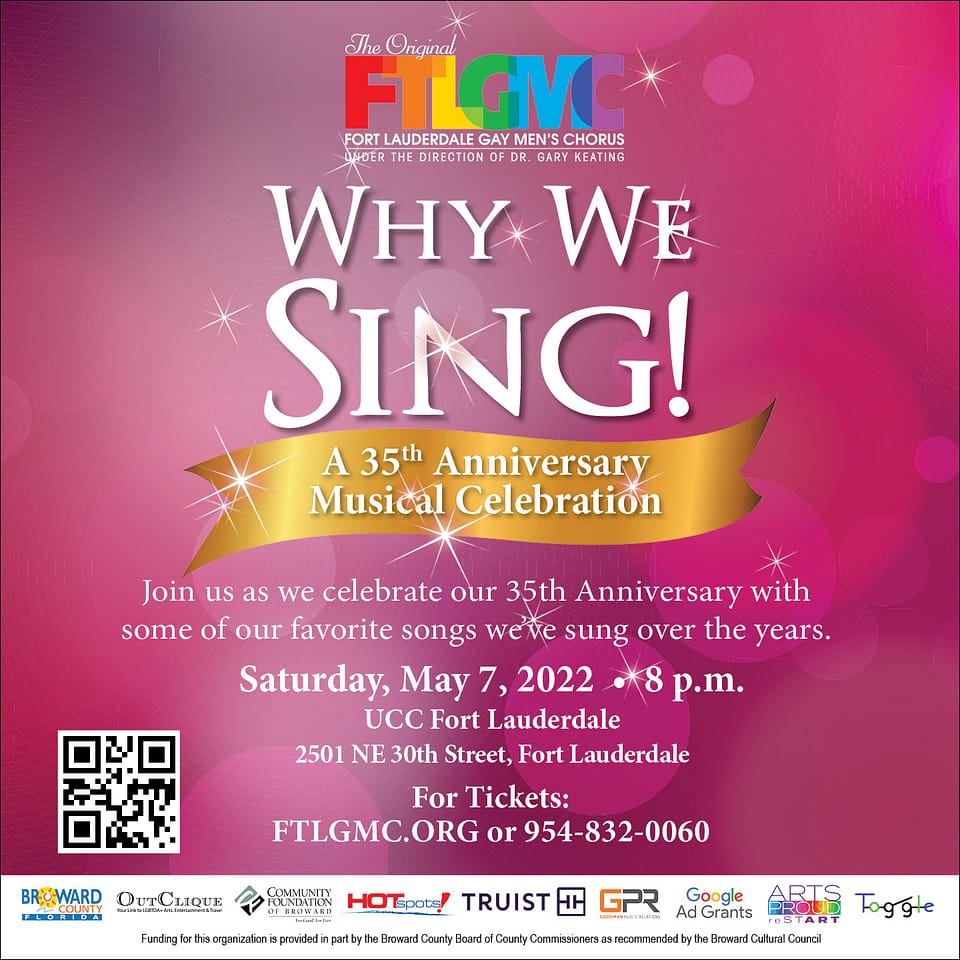 Celebrate our 35th Year of Serving & 'Singing Gay' in the Broward County, South Florida community
Fort Lauderdale GayMen's Chorus Mission Statement:
The Fort Lauderdale Gay Men's Chorus is proud to continue singing with the founding director of our organization, Dr. Gary Keating. It has been an exciting 35 year journey. Gary once again took us under his wing and we look forward to more performances that will take us to new heights! Click below to read more about him.
Meet Gary
Re-live musical memories from our recent Fort Lauderdale GayMen's Chorus Concerts. Subscribe to our YouTube channel to see more and learn when we publish more.
Subscribe to your FTLGMC channel
Grown Up Christmas List Alex Zenoz Jingle All The Way FTLGMC ORG
Silent Night – Alexander Zenoz w/Ft Lauderdale Gay Men's Chorus, Jingle All The Way. Holiday 2021
Jingle Bells – '68 Babs Style – The Fort Lauderdale Gay Men's Chorus – FTLGMC
We Are Family
Why We Sing
Into the Fire
Love Don't Need a Reason
Happiness
Remembering South Florida gay news:
NOVEMBER 2021 Fort Lauderdale, Florida "Our Time with Sondheim":
Our Fort Lauderdale GayMen's Chorus Family (and the whole world) were devastated to learn yesterday about the death of 91 year-old and Proudly Gay Musical Genius, Stephen Sondheim.
Back in March of 2018 (pre-COVID) we performed in concert: "Our Time With Sondheim" with special Broadway Guest Stars Lisa Vroman and Martha Bartz in downtown Fort Lauderdale, Broward County, South Florida.
We sang together then to celebrate & honor the life work of this brilliant and proudly out Gay Man. (#GayMen)
CLICK Lisa Vroman's image (below) to view our new YouTube Playlist featuring highlights from our 2018 concert:
---
Divas Through the Ages – Gay Men's Chorus of Fort Lauderdale Concert presented in part by the Community Foundation of Broward
An evening of fun and moving performances to honor the divas that all #gaymen love! FTLGMC presented performances of diva hits over the last 100 years from greats like Judy Garland, Whitney Houston, Bette Midler, Tina Turner, Liza Minnelli, Diana Ross, Idina Menzel, Patti LaBelle, Gloria Gaynor and more. Sponsored included the Broward Community Foundation, OurFund.org and SFGN (The South Florida Gay News).
See more photos from The Fort Lauderdale Gay Men's Chorus concerts in Broward County:
---
Sponsored in part by:
Arts Calendar http://www.artscalendar.com/